Seakeeper 1 Installation Manual (90519-1)
Cooling Installation
Cooling Installation Introduction
Reference Drawings and Documents:
Link to Seakeeper 1 Reference Documents
90512 –

Seakeeper

1 Cooling Water Schematic
90511 –

Seakeeper

1 Cable Block Diagram
TB 90191 – Seawater Cooling Pump Recommendations
30331 – DC Seawater Pump,

Seakeeper

1 Assembly
The Seakeeper 1 is shipped with the cooling circuit filled and ready for use. The Seakeeper 1 requires connection to a raw water pump, referred to as the seawater pump, to cool the closed loop cooling circuit on the unit. The required seawater flow through the Seakeeper 1 heat exchanger is between 2 – 4 GPM (7.6 – 15.2 LPM), under all vessel operating conditions. Prior to operation, confirmation of glycol level is required.
Seakeeper offers a compatible self-priming DC Seawater Pump (P/N 30331) that is prewired for the Seakeeper 1 Installation and covered under the standard Seakeeper warranty. See Drawing No. 30331 – DC Seawater Pump, Seakeeper 1 Assembly, for details and the Seakeeper Options and Accessories Price List for pricing information.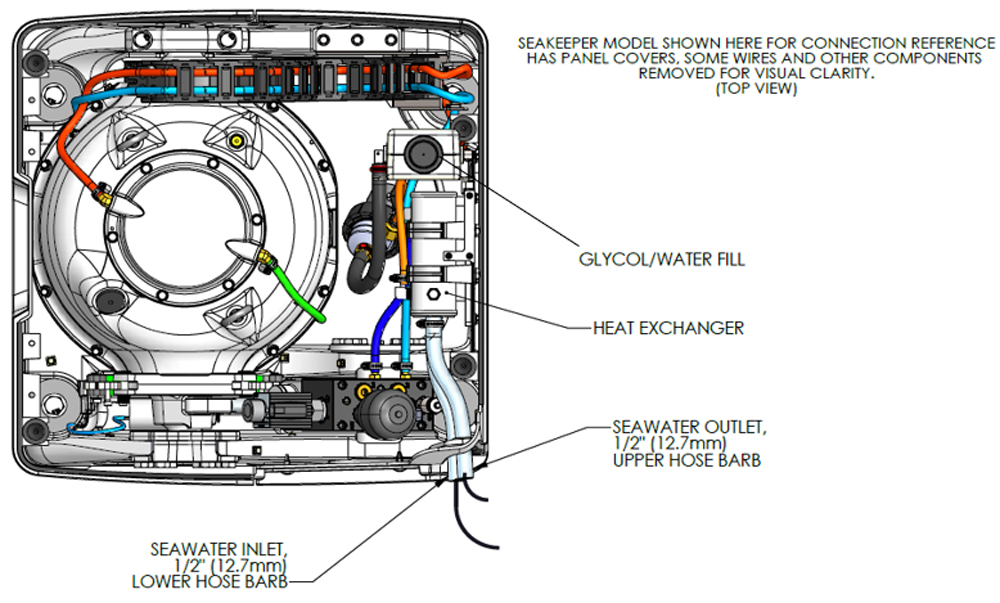 Adding Coolant
The

Seakeeper

1 cooling system is filled to proper level when shipped, with a mixture of 50% ethylene glycol and 50% distilled water.
The coolant reservoir should be filled with colored coolant mixture, as shown in the following figure. If level has dropped, check for evidence of leaks at all connections before adding fluid as described below.
If coolant is at the correct level, (see Figure 2) skip to the Connecting Seawater to Heat Exchanger section.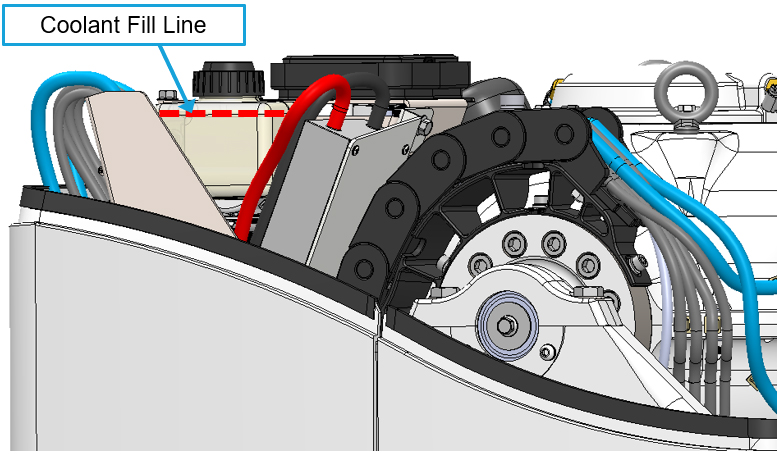 Mix 50% ethylene glycol with 50% distilled water in a clean container. Refer to glycol manufacturer's literature for freezing points.
Ethylene glycol with corrosion inhibitors is required. Most commercially available glycol has these additives standard.
Remove reservoir cap and pour mixture in until level reaches top face of the reservoir enclosure, as shown in Figure 2.

Filling reservoir above this level will not cause any damage but coolant may be expelled from the vented cap due to normal thermal expansion of coolant.

Once the

Seakeeper

1 and DC Seawater pump are connected to 12 VDC power:

Check the

Seakeeper

Display interface for any ALARMS.
Cycle the

Seakeeper

1, press the POWER ON button.
The flywheel will start to spin and the glycol pump will start.
Recheck glycol level with fluid circulating in coolant circuit to ensure the correct fill level is maintained.
After several minutes of running, press POWER OFF button.

The cooling system is self-purging. If small amounts of air are in the system, they should be dislodged during the first sea trial. Recheck level after sea trial and add fluid if required.
Connecting Seawater to Heat Exchanger
Refer to Figure 3 for typical seawater plumbing arrangement.
Connect seawater pump to

Seakeeper

dedicated through-hull fitting. A strainer and seacock valve should generally be installed between the seawater inlet and the pump.
Connect seawater from installer-supplied seawater pump to lower ½ in. (13 mm) hose barb on heat exchanger.

Use the same practices as other below waterline seawater plumbing.

Connect seawater discharge (upper hose barb) to overboard drain. Use the same practices as other below waterline seawater plumbing.
During commissioning, seawater flow should be checked to be within the flow requirements while the vessel is at rest, at speed, and when backing down.

If no other method of confirming flow is available, discharge line may be temporarily diverted to a bucket. Flowrate is calculated based on the time required to fill a known volume in GPM / LPM.
Flowrates in excess of 4 GPM (15.2 LPM) could affect heat exchanger life.

After sea trial / commissioning, inspect all raw water plumbing for any signs of leakage.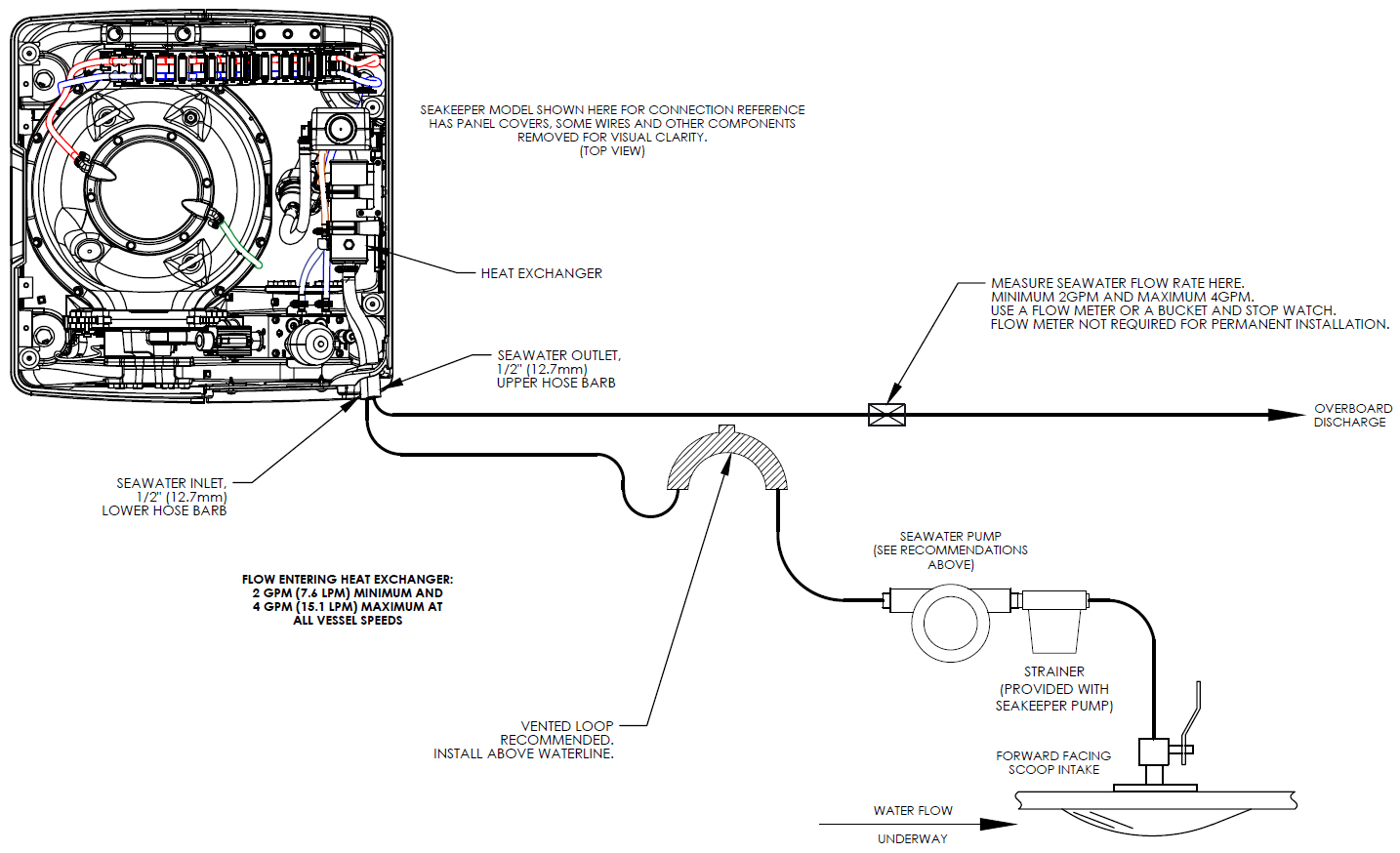 Seakeeper

1 DC Seawater Pump P/N 30331 (Optional)
Seakeeper

offers a self-priming DC Seawater pump as an optional addition. DC Seawater Pump,

Seakeeper

1 Assembly (P/N 30331), is shown in the following figure.
The

Seakeeper

Seawater Pump is a 24 VDC pump operated at 12 VDC for the

Seakeeper

1 and maintains a seawater flow of approximately 2.5 GPM (9.5 LPM) at 12 VDC.
The pump assembly is pre-wired for connection to

Seakeeper

1 Cable 5 and includes a seawater strainer and various fittings.
The pump specifications are as follows:
Volts
24 VDC (operate at 12 V for

Seakeeper

1)
Rated Flow
2.5 GPM (9.5 LPM), at 12 VDC
Overcurrent Protection Rating
15 A
Ignition Protection
ISO 8846 or equiv.

Installation Considerations
The installer is responsible for supplying a dedicated seawater pump and associated plumbing. An optional seawater pump can be purchased through

Seakeeper

, P/N 30331.
Seawater connections on the

Seakeeper

heat exchanger mate with ½ in. (13 mm) hose.
The seawater pump is powered by Cable 5, via "SW Pump 12 VDC Out" on the

Seakeeper

1, as outlined in the Electrical Installation section.

The seawater pump operates on 12 VDC with a max overcurrent protection rating of 15 A.

A dedicated through-hull fitting should be installed for each

Seakeeper

unit onboard the vessel to ensure sufficient seawater flow to each unit.
It is recommended that the seawater pump is located below the waterline, as close to the baseline of the vessel as practically possible, to maintain positive inlet pressure on the pump in all operating conditions.

A self-priming seawater pump may be required to maintain water flow in all underway conditions. Cavitation can occur at the seawater inlet and potentially cause an air-lock condition restricting seawater flow to the heat exchanger.

Maximum allowable seawater pressure in heat exchanger is 20 psi (1.4 bar).
The seawater flow requirement through the

Seakeeper

heat exchanger is 2 GPM (7.6 LPM) minimum and 4 GPM (15.2 LPM) maximum under all operating conditions.

When sizing the seawater pump, installers should consider losses for raw water plumbing.
A forward-facing scoop / highspeed seawater inlet should be installed to ensure sufficient seawater flow during underway operation.